Scientific thinking can't be learned from simulations alone
With our state-of-the-art lab kits, you can give online science students authentic lab experiences – no matter where they're learning from.
450+
Digital & hands-on experiements
1.4M
Lab kits shipped (and counting)
99%
Ships in less than 5 business days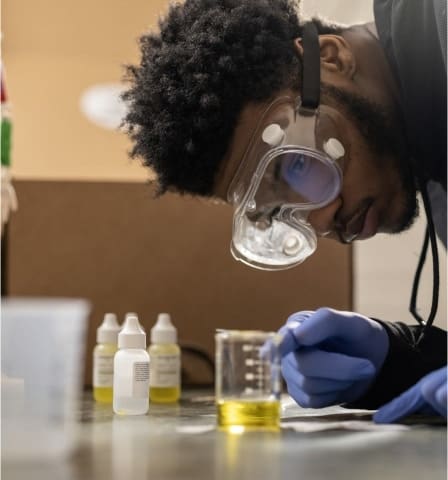 Sometimes, there's no replacement for hands-on lab work
Online science courses with virtual-only lab simulations try to make science accessible for off-campus students.
But most virtual labs:
Assume ideal environments and don't consider real-world anomalies.
Can be faked and use predefined outcomes.
Limit students' exposure to real-life scenarios and reduce their ability to develop the skills and competencies necessary for future learning or careers.
Which is why for many courses, nothing compares to the learning students get when they hold lab materials and equipment in their own hands.
Give your students lab-grade equipment and materials no matter where they're learning from
Teach your students critical scientific thinking and observation skills through hands-on lab kits designed by science educators for online science students.
Ready-made kits or design your own
Choose from ready-to-go lab kits and curriculum designed by PhD -level experts, or design your own kits across 11 scientific disciplines.
Real equipment and materials for real labs
Our lab kits come with college lab-grade materials and equipment at a scale that students can safely handle without direct supervision.
No need to worry about packing or logistics
Students can purchase their kits directly from Science Interactive or via their campus bookstores. We'll then ship their kits directly to them in less than 5 days.
30+ years of experience.
0 safety incidents.
Nothing is more important than the safety of your students. That's why our lab kits are painstakingly designed by Ph.D. scientists in line with microscale and Green Chemistry principles – and come with all the PPE equipment your students need.
Students must also complete a mandatory lab safety module prior to unlocking their lab content – to ensure student safety before, during, and after their labs.
We believe that hands-on labs should be accessible to all students.
Critical thinking is learned by doing science, not watching science
Top employers report that many college graduates lack critical thinking skills.
By giving students the opportunity to experience hands-on labs, they acquire critical thinking skills that help set them up for success in their future careers and workplaces.
Potential for failure ensures your students achieve true success
While accuracy is important in learning science, learning from mistakes is just as important.
With hands-on experiments, students physically mix materials, observe data, and make mistakes – instead of clicking around a simulation until they land on the right answer.
Engaging experiences help ignite a love for science and discovery
STEM proficiency in the US has been steadily declining over the past few decades.
As a science instructor, you have the opportunity to reveal the world of science to the next generation in an exciting way, and inspire them to continue on their journey of discovery.
For over six years, Science Interactive has collaborated with our subject matter experts to provide lab kits for online science courses at the University of New England. These kits have allowed students a hands-on lab experience regardless of their location around the globe. This comprehensive lab solution has provided quality products that enrich our courses and contribute considerably to our student experience and success.
Barbara Fortie
University of New England, Program Director
I have enjoyed using Science Interactive (formerly Hands-On Labs) for my Micro lab. The online modules make my teaching and grading seamless and it looks great from the student view. The personnel are very responsive to me or students when we needed help with an issue.
Cheraton Love
Winston-Salem State University, Dean, Experiential Education
When I was first approached to teach distance learning, I was very skeptical about how students could gain practical skills in an online environment... When I first came across the Science Interactive lab solution, I was pleasantly surprised by the quality and rigor of the experiments. They not only covered the topics that I normally cover, but in some cases go in much more depth than I expected. I have looked at other companies and I believe that Science Interactive is the best. They provide a college-level experience that is expected for a student taking a chemistry lab course.
Michael Felty
Chemistry Professor, Trinity Valley Community College
Science Interactive combines the best of Hands-On Labs, eScience and virtual science programs to deliver the most sophisticated lab experience in today's world.
Dr. Brown
Top 40 Innovators in Education by Center for Digital Education
At what is considered a pioneer institution of higher learning, Science Interactive labs have been the difference between rural students earning a degree or not, while remaining at their homes and working full time. For many years, we were the only institution in our state (and that includes the Universities) who offered a virtual lab, so our enrollment was enhanced because of Science Interactive. Once students settle into the routine of trusting that they can complete a lab, have the support they need, and that they learn from it, they have really enjoyed learning the content at their own pace.
Marlys
Miles Community College, Professor
I have been using Science Interactive for many years, even before the name change. What hasn't changed is the great customer service. My rep is only a phone call or email away and always responds promptly. My students have reported being able to contact customer support easily. Their labs kits have allowed our institution to offer online courses without sacrificing the hands-on learning that occurs in the lab. There are a wide variety of kits available, including custom kits. The use of custom kits has allowed us to create kits that align with our competencies. I wouldn't use any other company!
Nadine
Des Moines Area Community College, Professor
As Covid-19 began, our Dean challenged us to deliver, a master course that matched what we were doing in the classroom face-to-face. Our goal was to have a hands-on activity for each of the 16 weeks of the term. This was impossible if students did not have the kits in their hands by day one. Thanks to Science Interactive, we were able to provide at-home kits to meet our goals, well in advance of the first day of the term, which helped minimize student issues. We also had the flexibility to supplement the need for tactile kits every week with digital lessons to help reduced the cost to the student substantially. Thank you again for all that you do. I look forward to working with Science Interactive in the future.
Ken
Coastline Community College, Professor
Science Interactive has given our online students the hands-on experience that is needed in a chemistry laboratory. Students comment on how much they really enjoy the lab component of these courses and how much the lab experiments enhance what they are learning in our chemistry courses.
AnnMarie
Pima Community College, Professor
I have been working with Science Interactive since 2006 - they have always been professional and responsive to the needs of my institution as well as my students. The quality of the lab kits that we employ is par none, and Science Interactive is very flexible when it comes to customizing these kits to align with the pedagogy of our classes.
Marc
Ocean Community College, Professor
I have taught online classes uninterruptedly since 2016. Initially, I was skeptical about my students having a good lab experience in an online lab that was supposed to be hands-on. After intense research, I found that Science Interactive had a great solution available in a superb and relatively affordable lab kit that would enable my students to have something close to an on-campus lab experience. After years of teaching the lab, I can give first-hand testimony of the professional quality of the experiments and the lab kit contents. These facts alone would have had me using Science Interactive kits for all my online labs. But what makes it truly impossible for me to even think of switching lab kit providers is the top-notch support that I get from my account executive. Science Interactive is an outstanding provider of true college-level lab kits with an excellent support team that will always have your back.
Carlos
University of Colorado, Professor
Science Interactive provides the opportunity to offer our students the hands-on experience of science labs from the convenience of their homes. Their labs kits do a great job of providing students with a realistic environment that teaches critical skills required to learn various laboratory concepts and replicating the same learning experience they would have at a campus lab. The entire platform is user friends and students enjoy their experience using the kits and the educational online content. Both higher education online programs and online science students can benefit greatly from the integration of at-home lab kits into the curriculum.
Damon
Colorado Christian University, Professor
I loved everything about it. I had everything I needed and the labs were easy to follow.
Prairie State College
Student
See what's possible with hands-on lab experiences for online students